March 2004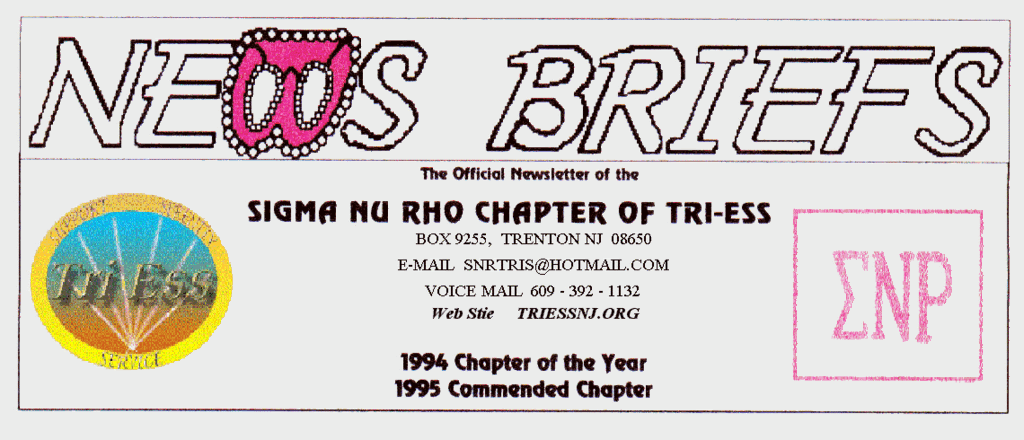 Published Mar. 2004
Wives Meeting

The wives were able to meet in February and I believe that all was well. We do not get a report of their meeting

Wonderful Food

The food for the meeting was provided by Patti, who was helped by the other wives. It was wonderful

April Meeting

Sharla will be here in April to help us look better for the summer. She will be bringing her bag of makeup tricks from Mary Kay and as her husband is one of us, she should be very helpful.

Girls Night Out

Anyone wishing information about future NIGHT OUT events and dates should contact Alice.

Tri-Ess National

If we are to remain a Tri-Ess Chapter, all members must join Tri-Ess National. If you do not wish mail sent to you home, it can be sent to the chapter P.O. Box. If the annual fee is the only problem, speak to Pat, something might be arranged.

National will be re-certifying the chapter soon, and this is a must.

If you have any ideas or comments, please mail or email Pat.

New Members

We are always looking for new members. Any member may bring someone that they have meet. Please go out of your way to make a new member of visitor feel welcome and at home.

I have interviewed several in the past month and hope that some will come to the meeting.

Programs

There will be no program this month as the weather could be a problem.

ANY IDEAS????

Anyone have an idea for a meeting? October will be the Halloween Party and Dec. is the Christmas Party. We hope to get the picnic back to June. And the I.D. Cards will be in May

The rest of the year is open. If you have an idea, please give it to me. If you know of someone who can/will give a program, tell me. Lady Remington will be one of the months and we might try a trip to the Dress Barn if enough girls want to go.

Picnic

Alice has reserved the church for the picnic. The date is June 26, our normal June meeting date. The starting time will be about 4:00 P.M. but some help will be needed before that time to set up the tents, chairs etc. Joyce is providing the tents and is trying to find some gas grills that we can use for free. In the past we have had to rent this equipment.

Christmas

I Contacted the Hotel about Christmas and have reserved the rooms for Dec. 11.

Dinner and a Movie

May will be the next dinner and a movie night. Since I will not have to work that day, we should be able to get a good early start. Maybe even do a bit of shopping the same day.

HELP! WITH NEWSLETTER

For those who know me, this might come as a surprise, but I could use some help with articles for the newsletter. Simply email anything to me that might be of interest. Please keep it to about one half of a page as I do not have the time to edit and I can not put long articles in the newsletter.

HUMOR

Eve and The Lord


"Lord?"
"Yes, Eve"
"I know that you created me and provided this beautiful garden and all of these wonderful animals, as well as that hilarious comedic snake, but I'm just not happy."
"And why is that Eve?"
"Lord, I am lonely, and I'm sick to death of apples."
"Well, Eve, in that case, I have a solution. I shall create a man for you."
"Man? What is that, Lord?"
"A flawed creature, with many bad traits. He'll lie, cheat and be vain; all in all, he'll give you a hard time. But he'll be bigger, faster and will like to hunt and kill things, I'll create him in such a way that he will satisfy your physical needs. He will be witless and will revel in childish things like fighting and kicking a ball about. He won't be too smart, so he will also need your advice to think properly."
"Sounds great," says Eve, with ironically raised eyebrows, "but what's the catch, Lord?"
"Well... you can have him on one condition."
"And what's that, Lord?"
"As I said, he'll be proud, arrogant and self-admiring. You'll have to let him believe that I made him first. And it will have to be our little secret. You know... Woman to Woman."
---