December 2003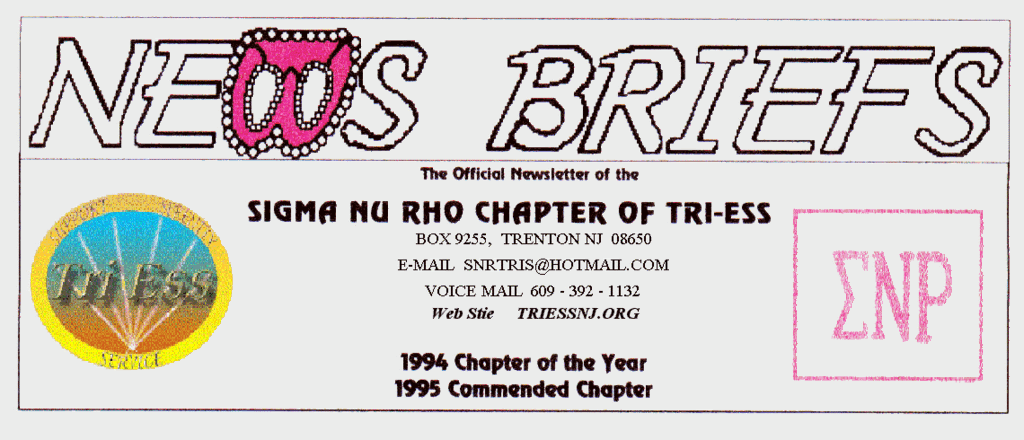 Published December 2003
Christmas Party DEC. 13
Christmas Party

The Christmas party will be on Dec. 13 at 7:30 P.M. The price will be $30.00 for members and $20.00 for wives.

The room that we have used for the past few years is being changed into a foyer. We will be using a room down stairs. The seating will be limited to about 30, and I have 25 already, so I will have to know early who is coming. As in the past, the party Is not limited to members.

You can feel free to arrive anytime after 6:00 P.M. From the front entrance, go down the stairs. The party room will be on the right and the changing area is in the rear on the left. (We are using the downstairs bar for changing.)

A Big THANK YOU

A very big thank you to those who did such wonderful work preparing the food at the meeting in November. Maybe I should also give a word of warning, if you keep doing such a good job, someone might suggest we have the party at a meeting and you prepare it.

YES, it was that good.

Thanks to Jackie, Patty, Robin, and Donna who went out to get everything and to Jackie, Patty and Robin who I saw working so hard to prepare it all. If I left anyone out, I thank them too.

Wives Meeting

The wives group meet on No. 22, there were six wives at the meeting.

CHURCH

We have been invited to attend church at The Unitarian Church on Dec. 14, the day after the Christmas party. The church is very friendly and has requested that we come to church to meet with them. I have been there several times, and Alice is a regular member of the church. The service starts at 10:30 AM and you could change in the downstairs bathroom.

Dinner Menu

Garden Salad

Entree: Choice of
Roasted French Breast of Chicken with Sage Country Gravy All Entrees garnished with Appropriate Seasonal Accompaniments

Freshly Baked Rolls and Butter

Coffee, Tea, and Decaffeinated Coffee

Dessert from Dessert tray

Girls Night Out

Anyone wishing information about future NIGHT OUT events and dates should contact Alice.

TIME TO
Renew Membership Cards

If you do not have yours, get it from Robin at the next meeting.

ANY IDEAS????

Anyone have an idea for a meeting? October will be the Halloween Party and Magic Show and Dec. is the Christmas Party.

August, September and November are open. If you have an idea, please give it to me. If you know of someone who can/will give a program, tell me.

HELP! WITH NEWSLETTER

For those who know me, this might come as a surprise, but I could use some help with articles for the newsletter. Simply email anything to me that might be of interest. Please keep it to about one half of a page as I do not have the time to edit and I can not put long articles in the newsletter.

Dinner and a Movie

Pat and the girls did the movie and dinner again on Nov. 29 with a twist. Due to a major traffic delay, Pat could not change. Therefore Pat escorted two ladies for the evening.

The next date is Jan. 30. I hope the traffic is better by then.
---