April 2003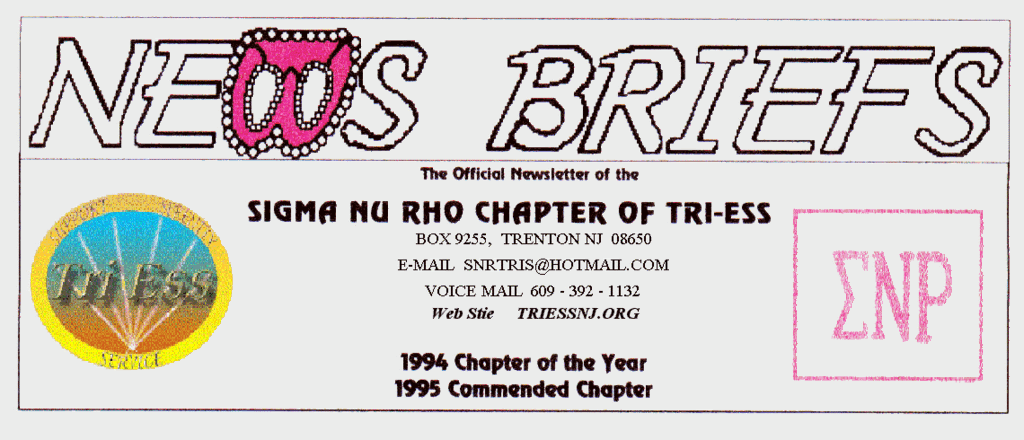 Published April, 2003
March Meeting

Thank you to all of those who helped with the food. Robin, Patty, Jackie, Joyce, Luann, and any others I might not know about.

Wives Meeting

After many years of trying, Sigma Nu Rho has had a wives group meeting. I hope that this will become a regular part of the meeting. We were lucky to have an extra room in March and I will see what can be done for the future. I hope to meet with the hotel management about using the other meeting room on nights when it is not rented to another group.

NO JUNE MEETING
June Picnic on JULY 5

The picnic will have to be moved this year, as there is a conflicting program at the church. The easiest thing was to move it back one week. This would avoid having to change the hotel reservations. As this is the date of the Ren meeting at the church, and they are invited anyway, this seemed the best solution.

April Meeting

Pat will bring her I.D. camera to the meeting. If you do not have one, or you want a new one, just bring your face, Pat will bring the rest.

May Meeting

Lady Remington will be at the meeting in May with her jewelry selection. Trish is always a good program, so bring

Girls Night Out

Anyone wishing information about future NIGHT OUT events and dates should contact Alice.

HELP! WITH NEWSLETTER

For those who know me, this might come as a surprise, but I could use some help with articles for the newsletter. Simply email anything to me that might be of interest. Please keep it to about one half of a page as I do not have the time to edit and I can not put long articles in the newsletter.

Fifth Saturdays

Pat has been running a night out in the Bethlehem, PA area for over a year. The routine involves just meeting at a Chinese Buffet for dinner at about 8:00 P.M. and staying until about 9:30. The Buffet closes around 10:00 P.M. You will have to arrive dressed, as there is no changing facility available at this time. The typical cost is about $13.00 and entertainment after the dinner is almost non-existent. If you are interested, contact Pat at the chapter email.

MARSHMALLOW AMAZONS?

by Jennifer Mae Barnes

If I, Jennie, were to show up to support group as I have appeared in my dreams, I would be a stranger to many who know me. First, I, Jennie, have been a blonde for more of my life than I have as a male. But then more importantly, while as a male, I have recently hit 200 pounds, in my dreams, I as a female weigh a little over 130 pounds, and while as a male, I am 6'1" tall, the Jennie of our (we being my male self and my female self) dreams can tuck her head under the chin of my male self in an embrace. What I am trying to say is that, though my dream image of myself as Jennie is of a plumpish woman of tall average height, when I dress up and impersonate Jennie, I am in fact an amazon. So, recently, I have been focusing my attention more on amazons who are 6' or over in flats. I really do not at this stage wish to make any generalizations, but at least some of the amazons I have studied are not fierce warriors. If anything, they seem to be rather self-conscious of their height, almost wishing that they were as short as many other women (like a cousin of my male self). I am sure that there are large women who are assertive precisely because they are bigger than many men. In fact, I should know. Twenty odd years ago, as a male, I weighed but 140. At that time, I dated a woman heavier by about 30 pounds, and she thought she could push such a girlish man around-physically. Alas, she lacked arm strength, and I spanked her. But amazons like her are a rarity in my experience. This shocks some men. Once a male friend who wanted to introduce me to a tall woman characterized her as a, "Marshmallow amazon." He expected a large woman to be assertive and threatening. But thank heavens most amazons cannot be stereotyped. The term AMAZON derives from the Greek term for BREASTLESS. Supposedly the ancient amazons removed the breast on one side so that they could use bows and arrows. The ancient Greeks lived in mortal fear of the amazons. Nicole Loraux argues in her book "The Experiences of Teresias: The Feminine and the Greek Man." Paula Wissing, trans. (Princeton: University Press, 1995) that the ancient Greeks created the myth of the amazons to justify defeating their women and excluding them from society. Ancient Greek males grew up in fear of large women due to the fact that they were raised in homes which were exclusively the realm of women (their mothers) due to the segregation of Greek women from public life. So, the almost meek and submissive character of many large women argues that the Greek fear of the amazons was unfounded-as was their brutal suppression of women. If anything, when I simply dreamt of being Jennie, the short Jennie was a rather feisty feminist who found patriarchy amusing married to a male chauvinist who found feminism amusing. As I began to dress daily as a woman, the male converted to feminism. But now as I go about my life as an amazon, I think that if a very tall genetic woman is meek and submissive because she wishes she were shorter, that is regrettable. If she is large and for this reason wishes to be intimidating-she might be advised to consider the experience of the Valkyrie who punched me. But if an amazon feels that she is secure from male intimidation and rejects the whole intimidation culture, being an amazon might afford unique opportunities for female expression. I have often wished I had been born a woman, thinking I would be a woman of average female stature. But being instead the soul of such a woman in a moderately tall male body has given me choices which I have just begun to conceive of and develop-which maybe the girl tall enough to look the male me straight in the eyes whom I walked home with every day in 1955 knew of long ago. And come to think of it, such a woman looked me up and down and gave me my female sizes in 1980.
---